Onever HY82 FM Transmitter Bluetooth Handsfree Car Kit MP3 Player with 3.1A Quick Charge Dual USB Charger
₨ 2,999 (-12%)
Features: 
Lcd display of frequency and car battery voltage.
English voice number prompt.
Plug the mp3 player into the cigarette lighter of your car directly,
easy to use and carry.

Supports Bluetooth hands-free phone calling via its built-in microphone.

Supports A2DP function. Music will be played directly while the mobile phone is connected.

Built-in dual USB 5v / 4.1a output, 3.1a USB port support smart charging, it is available for charging most kinds of devices in the car.

Support sd/TF memory card and USB flash drive (1a USB port) reading, can play music files on mp3/WMA/Wav and most Flav format.

With the support of FM channels, this car mp3 wireless FM transmitter lets you take a break from your regular music.
Compare
Report Abuse
Description
Onever HY82 FM Transmitter Bluetooth Handsfree Car Kit MP3 Player with 3.1A Quick Charge Dual USB Charger
This Onever product is a special Bluetooth car charger that can switch the call to a hands-free state via the professional Bluetooth modules as long as the mobile phone is provided with the Bluetooth function. It can also send the music in your phone to your car sound wirelessly. You can enjoy the music and answer the call in hand-free mode without refitting your car, which ensures driving safety while enjoying music.
Onever FM Transmitter Specifications:
Model: Onever HY82 Car Kit
Material: ABS
Color: Black
Display Color: Blue
Bluetooth Version: Bluetooth 4.1 (supports a2dp/src/aac/HSP/avrcp)
Files Supported: MP3/WMA/WAV,
Most Flav music FM frequency range: 87.5-108.0mhz SNR 85db (fm: 65db)
Effective Distance: 5m / 16.4ft
Working Voltage: DC 12v-24v
USB Output: 5v / 3.1a (smart ic), 5v / 1a
Ports: 2 * USB 2.0; 1 * tf card input, up to 32GB max
Size: (L*W*H) 3.8*4.6*7.8cm / 1.5*1.8*3.1 inches
Net Weight 0.035kg / 1.2oz
Package Includes 1 x Car FM Modulator, 1 x English user manual, 1 x package box.
User Tips:
1. It is a normal phenomenon that FM products will have some noise because of the interference of the local radio signal. Find a vacant or non-interfered frequency and sync the Onever device to that frequency for minimized static noise.
2. To achieve the best audio quality, please set the volume on your phone or the device to maximum and then adjust the volume for your car stereo; you are not suggested to adjust the volume of your car speaker to maximum (this will bring a lot of noise).
3. Suggest that RAM less than 32GB. larger than 32GB which may cause the abnormal reading.
4. Our products support the use of a 12-24V normal battery in the car/truck, we recommend that you do not use the product in a car/truck that modified the battery. This may cause burned because of instantaneous high current.
5. To protect this device, we recommend removing it from the cigarette outlet after use, to avoid instant high start voltage damage to the device.
6.If you want to charge the phone and listen to the car radio at the same time, please note that your radio frequency and our device's frequency do not get too close.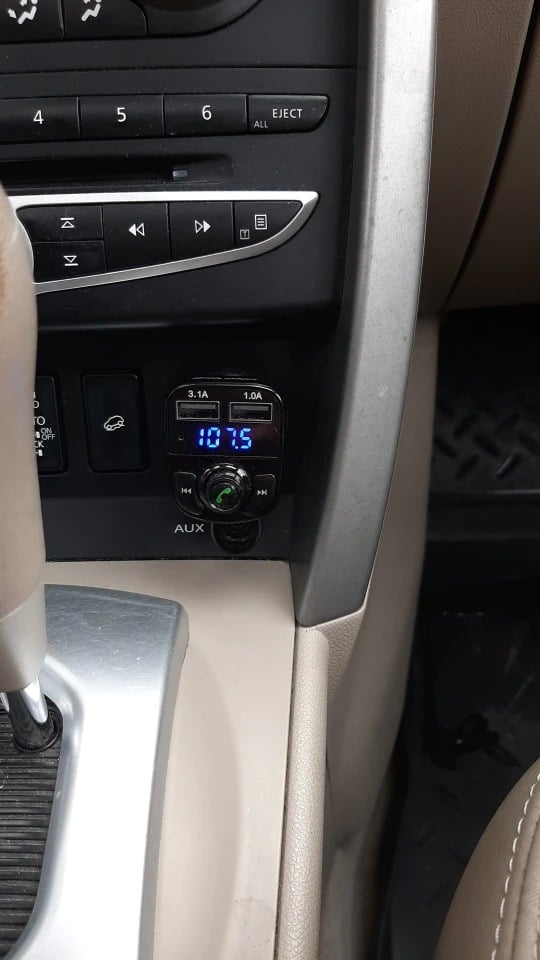 Specification
Additional information
| | |
| --- | --- |
| Weight | 0.035 kg |
| Dimensions | 3.8 × 4.6 × 7.8 cm |